What to do if the site requires your cell phone number for verification to apply for website services or to register as a member? This verification process is found on many popular resources.
SMS verification is one of the ways to confirm your identity by receiving an SMS with a verification code. But what if you don't want to give out your personal cell phone number? So you can get the verification code to a virtual number through the online service.
In this article, we'll talk about virtual phone numbers and how to use SMS verification service to bypass phone number verification for any website or application.
What is the difference between a virtual number and a personal cell phone number?
Virtual numbers are a type of phone number that can be used to receive calls, texts and faxes without the need for a physical device. Virtual numbers are also known as virtual PBX lines or virtual business numbers.
Physical SIM card: a personal cell phone number, regardless of the service provider, basically has a physical SIM-card. Even the current ESIM laid down requires a physical card. 
A virtual number is basically similar to ESIM, except that a virtual number has no physical SIM card at all.
Benefits of the virtual phone number 
Worldwide Availability:

Virtual phone numbers are available worldwide. You can get a virtual phone number of any country being anywhere in the world. All you need is an Internet connection

Inexpensive to use:

thanks to VoIP telephony the cost of such a number is much lower than the cost of a physical sim card. 

Mass account registration:

many applications require a cell phone number to register. With virtual numbers, you can register as many accounts as you want. Registering accounts with virtual numbers in social networks, messengers and other applications is very easy.

Remain anonymous:

with a virtual phone number, you can keep your private information safe. You can use it to get rid of unwanted calls and texts or to create a professional brand without having to give out your personal number.
How to use SMS-man service to get a virtual mobile number for SMS
If you need to receive SMS messages but don't have a phone number, you can use the SMS-Man service to get a virtual mobile phone number.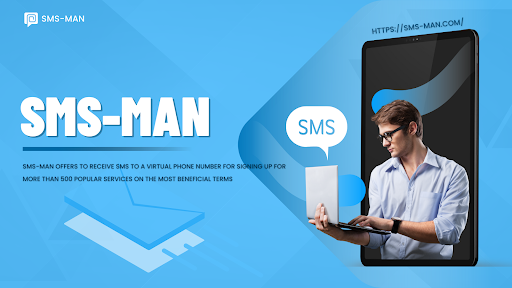 SMS-man is a unique and efficient resource to bypass any phone number verification service and receive SMS online. All you need is to enter your e-mail to start receiving an SMS from the service. You will receive the verification code in seconds, which you can enter into the website or application you want to access. SMS-man support about 1000 different services and provide virtual numbers from 300 countries.
To get a virtual number, follow these steps:
Step 1. Go to https://sms-man.com/ and click the "Sign up" button in the upper right corner of the page to begin your registration. 
Step 2. Enter your email address and password, then click "Sign Up". Also, you can use Facebook or Twitter to quickly register.
Step 3. Next, choose one of the countries from the menu on the home page.
Step 4. After selecting a country, select a service you'd like to receive SMS message for (there are over 1,000 sites and applications).
Step 5. Then you click "Buy" button next to the service you selected.
Step 6. Now you have a virtual phone number, use it to verify the online account (this can be done by sending an SMS to the virtual number).
Step 7. When an SMS is sent to the virtual number, go back to the SMS-Man page and click "Get SMS" to see verification code.